Invicta Flies - English March Brown




A beautiful pattern of British origin good when the March Browns are hatching, also during caddis hatches and in late summer on stillwaters.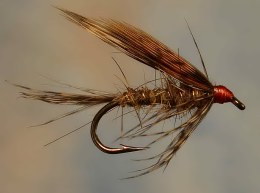 Hook: Mustad 3906B, #16-12
Thread: Danville Prewaxed 6/0 brown
Tail: brown shade hungarian partridge fibers
Ribbing: fine oval gold tinsel
Body: hares ear blend, tan/brown
Hackle: brown shade hungarian partridge
Wing: ringneck hen pheasant wing quill segments
Tying Instructions:
1.) Place hook in vise and secure thread to shank, end at hook bend.
2.) Tie in a few fibers of partrdge for the tail, about two/thirds hook shank in length.
3.) Tie in gold ribbing, the tied-down portion extending the entire length of the body.
4.) Dub a body of hare's ear blend, tapered to the rear. Form the body to within one and a half hook eye lengths behind eye.
5.) Counterwrap ribbing forward to thread. Tie off and clip excess.
6.) Tie in partridge hackle and take one full turn. Tie off and clip.
7.) Clip a segment from two matching ringneck hen pheasant wing quills. Width equal to 2/3 hook gap. Place back to back and tie in on top of shank, tips extending to the middle of the tail. Clip any excess.
8.) Build up a substantial head with the tying thread. Whip finish, cement head for a glossy appearance.